The biyearly held SIAE at Le Bourget (Salon International de l'Aéronautique et de l'Espace), also known as the Paris Airshow, always represents a mix of prototypes, new aircraft for the international market, warbirds and other exotic aircraft – emphasising on the international trade market. Le Bourget airport also houses the Dassault Falcon overhaul facility and national French air force and airspace museum.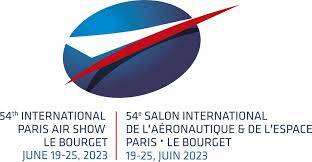 This particular day was extremely sunny and (dangerously) hot. Water was mandatory and luckily available at many different stands. Many people tried to stay in the shadows. This extreme weather made it also very difficult to photograph static and flying aircraft.
2023 was attended by a nice US delegation as well as the regular Armee de l'Air participants.
Some hot new aircraft were the Brasilian Embraer C390 and Super Tucano and Diamond Dart 750.
The flying warbirds collection also consisted of a Skyraider – nicely combined with the two museum specimens. Among the many museum aircraft the Super Mirage 4000 was one of the most rare. The other side of the airport houses the museums depot, filled with many rare type of aircraft. Unfortunately these were impossible to photograph.