Weird thing aabout the M-12 was we were looking for an other crashed aircraft! We only found a very large piece of aircraft skin with rivets and more, and a lot of very small single rivets on other places. The crash site was thoroughly cleaned after the crash long ago.
It turned out to be te Dutch KLu T-33 M-12, which made a failed touch&go on a training sortie. The 'go' did'nt quite turned out well and it crashed in a wooded area.
Particularly astonishing fact was that the large piece also held a Parts Type Identification Plate deep inside it! It identifies the aircraft type and serial number (construction number).
The type is T33A-1-LO and the construction number 725_; which can only be for this crash location the 7250, which is the M-12 (324sq) - crashed 9-7-1963 at the exact place where we found the part(s).
The total plate and close up of the right upper hand corner. Also a complete plate for comparison.
Above:
Airplane mod is stated as 'T33 A 1LO'
Dwg or part no.: 178981-2
Contract: AF 5 _ 600 6578
S/n: 725 _ C 4053
Co.Insp.: 319 Cessna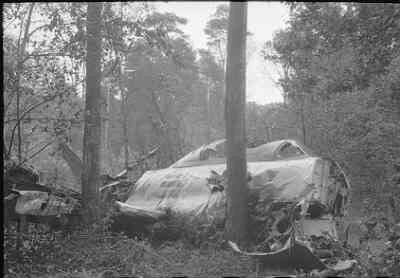 The M-12 as found in the woods after the failed touch&go.